Photography News
This is the first update to the website since December 2010. It's still hard to find enough time for photography. I did manage to find a few local springtime images. A trip to London provided some reasonable images around Canary Wharf. I would like to make a return visit and get some night time shots.
Holy Trinity Church.
Although I've taken this shot this many times in the past, I could not resist the orange light of the early morning March sun. The thin high clouds help make it a good mono image too.


Park Cottage.
I've also shot this scene in the past. This time it was the bright green spring grass and buttercups that caught my eye. I composed the image to avoid having bright sky at the top. This would have unbalanced the picture and distracted the eye away from the white painted cottage. A grad grey filter may have helped in this situation but as I only had my Canon G11, that was not an option. There is a path made by grazing cattle that can be used to lead the eye into the picture. This required some enhancement in photoshop to make it stand out.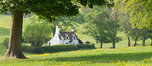 Park Gate.
This shot also avoids bright distracting sky. The overhanging branches help frame the old gate and stile. The master painters of the past often used 'cool against warm' colours in their compositions. In this image, the warm burnt sienna of the dead leaves in the foreground creates the complementary colour to the bright green of the grass and trees.

Bluebells.
Having visited the bluebell woods at Ashridge with my camera many time in the past, I decided not to go this year. I doubt if I could improve on my previous results. I made do with a couple of macro shots taken in a local wood using the Canon G11 at the end of April.

Canary Wharf.
I paid a visit to Canary Wharf in May. All the shots were taken hand held using the Canon G11
Canary Wharf underground station escalator makes an interesting composition that works in both colour and monochrome.



The tall buildings and reflections in the glass make good architectural subjects.





These bolts and steel plate were part of a sculpture near Canary Wharf station. I converted to monochrome and reflected the image using photoshop to create a symmetrical abstract.


An abstract reflection shot of a family having a picnic lunch on the grass.

The famous footbridge at Poplar DLR Station in colour and toned mono.


The symmetry of the composition lends itself nicely to being reflected using photoshop.

Photography Gallery Updates.
'Colour, Beds, Bucks & Herts' gallery
'Colour London' gallery
'Colour Macro Flowers' gallery
'Mono Misc' gallery
'Mono, Beds, Bucks & Herts' gallery
'Mono London' gallery